For more than a decade, NEO lifting magnets have been indispensable in the Siemens facilities in Frenštát pod Radhoštěm, Czech Republic. About 160 NEO magnets are being actively used in their current production. Stanislav Popelka from Siemens, who works with NEO and NEO HOT lifting magnets every day, has described his genuinely positive experience to us.
The uplifting properties of NEO magnets
Siemens facilities in Frenštát pod Radhoštěm are considered the biggest European producer of standard electric motors of 225–355 mm shaft heights. Electric motors from Frenštát power pumps, compressors and air conditioning—they're used in giant ventilators in traffic tunnels, on offshore drilling rigs or in rock and concrete crushers.
Smaller NEO and NEO HOT lifting magnets are used to lift shafts in Siemens; the largest NEO magnets lift large stator packets—which weigh approx. 1 000 kg.
Before incorporating magnets, Siemens used to rely on textile lashing and C-hooks to lift their workpieces. The operator had to manually attach each workpiece to a C-hook and take it off once the lifting job was done—those were tedious, time-consuming tasks that had to be done twice per workpiece.
C-hooks required more space around them (the operator needed to access the workpiece from all sides) and also took up more storage space when not being used.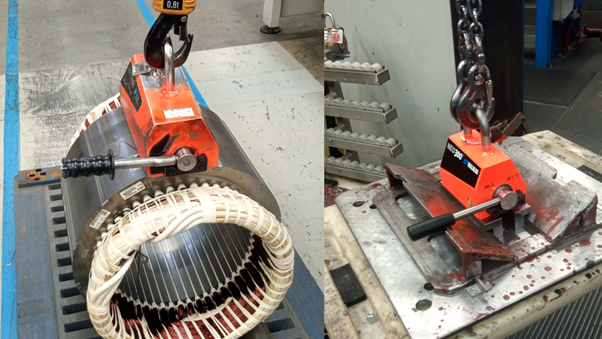 NEO magnets in Siemens: A NEO magnet lifting a stator packet on the left.
"Lifting magnets are quite small and don't require much space. Most importantly, lifting with magnets is super fast and way easier than C-hooks. We use magnets of various lifting capacities in our production—and appreciate that Walmag has a lot to offer. We can always find the best fit for what we need at the moment," explains Stanislav Popelka, who takes care of all the lifting magnets at the Siemens facilities.
Long-lasting construction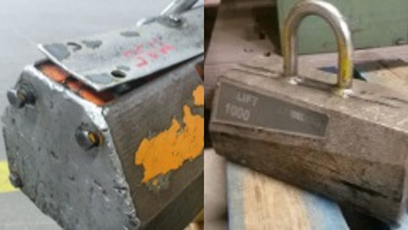 Battered lifting magnet of bolted construction (on the left)
against a worn-out NEO Lift 1000—the welded construction
is practically intact even though the magnet was used
so much it lost its original red colour.
One of the many benefits of NEO lifting magnets is the almost eternal longevity of their magnetic core. It's easy to replace all other components around the core when they're damaged or worn out. A battered lifting magnet can emerge from servicing looking (and working) as a brand new one.
The inner magnetic core (made of neodymium) is practically indestructible. This doesn't mean that other components of the magnet wear out easily—all NEO lifting magnets have a solid welded construction (even their lifting handle is soldered on the body of the magnet). Unlike magnets with bolted construction, welded construction isn't prone to damage, nothing on it can come loose, and it doesn't fall apart.
NEO lifting magnets are placed indoors in Siemens, so they're not affected by weather conditions. However, in some parts of Siemens production, NEO magnets have to withstand dust, they lift hot objects (of temperatures up to 140 oC) or are repeatedly subjected to liquid cutting fluids.
Stanislav Popelka confirms that NEO lifting magnets can handle these extreme conditions exceptionally well: "I've been working in Siemens for over 13 years and I'd say all the magnets we had to replace with new ones could be counted on the fingers of just one hand."
By the way, replacing worn out magnets only happens when too many components need to be replaced. The servicing price is then comparable to buying a brand new magnet, and it no longer makes sense.
Regular service and inspection of lifting magnets 
When Siemens and Walmag first started working together more than 10 years ago, Walmag's lifting magnets constituted approximately half of all the lifting magnets in Siemens. Nowadays, about 85% of all lifting magnets in Siemens come from Walmag. The production in Siemens is ever-growing, and when they need to increase the number of lifting magnets, they no longer consider any other supplier than Walmag.
"I would say that Walmag's greatest benefit is that their service is so easily available. We tend to struggle with that with our other magnets. We have many lifting magnets in our production, so we need to have 2-3 magnets serviced or inspected every month," describes Stanislav Popelka.
But don't get him wrong—he's not saying that lifting magnets need servicing all the time. There's a legal safety requirement making it obligatory for certified load lifting magnets to be inspected on a regular yearly basis. Siemens appreciates that Walmag can take care of inspection of all their lifting magnets at once, regardless of their brands.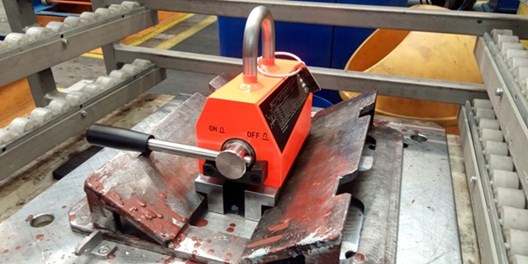 TIP: What do servicing and regular inspections look like for lifting magnets? Find out in our article.
As another benefit of Walmag magnets, Stanislav Popelka points out that Walmag never stops improving and is willing to customise their magnets, based on the feedback from Siemens. For instance, Walmag has customised their standard Easy Switch handle on NEO lifting magnets for Siemens—they added a special lock-off button on the handle for its release. Easy Switch handle is operated by just one hand (a great benefit for crane operators who don't have to let go of the crane's operating handle).
The Easy Switch handle is attached to the body of the magnet by two bolts—the only bolts that you can find on NEO magnets. They are countersunk so they don't get damaged easily (which is often the case with protruding bolts). It's an essential feature because loosening damaged bolts can become impossible when the magnet needs servicing.
Cons of NEO lifting magnets
The most obvious con is the price. However, it's important to point out that while there are cheaper lifting magnets with comparable nominal lifting capacity on the market, the higher price of NEO magnets is justified by the fact that they're 100% EU-made.
EU origin is important: EU-made lifting magnets must comply with strict safety regulations. For example, their actual lifting capacity has to be three times higher than their nominal lifting capacity. 100% EU-made means 100% safe.
Walmag even raises the necessary standard by making the compulsory tear-off test more demanding for their magnets. A sheet of paper is put between the surface of the magnet and the lifted object to simulate air capsules that often occur in real life (due to surface irregularities, the magnet's colour coat peeling off or due to irregular shape of the lifted object).
Want to know more about the legal requirements for certified lifting magnets? We dedicated an entire article to this topic.
Exceptional Customer Support
Apart from supplying high-quality magnets, Walmag provides professional advice and customer care. Walmag helps calculate the necessary magnetic force and advises Siemens on the magnets' placement or their installation.
Stanislav Popelka confirms the professional level of Walmag's customer care: "Dealing with Walmag is always a pleasure. There have never been any issues that we wouldn't be able to solve. I can't describe our relationship in other words than perfect", he sums up his experience.
Do you think NEO lifting magnets would be a good fit in your production?
 Contact us, we'll gladly prepare an offer for you.