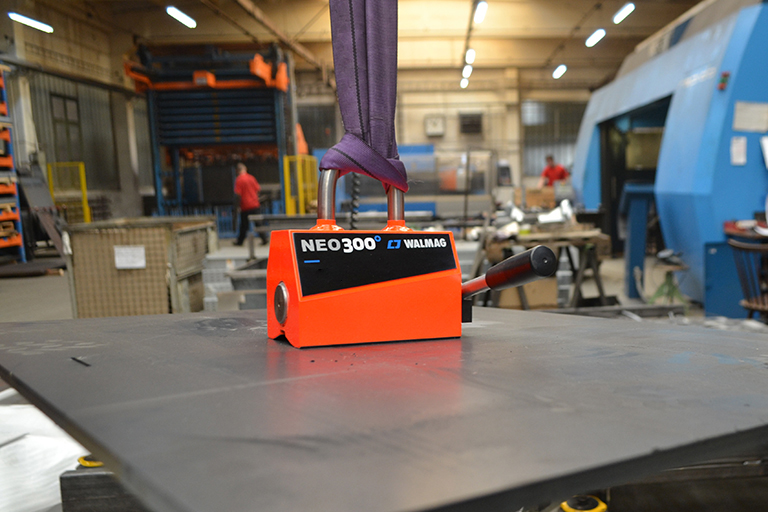 Neodymium permanent magnets have to be able to lift 3x
their maximal load capacity. Our NEOL300 can lift more
than 900 kg, as proved during our tests—even through
a sheet of paper.
When purchasing a lifting magnet, always check its available certification, especially its safety parameters. The health of your employees is more important than a few hundred euros you may save on a cheap magnet of suspicious origin. Legal requirements for load lifting magnets are set out by the EN 13155:2020(E) standard. In this article, we will talk about the most important regulations for load lifting magnets.
Load capacity 2x—3x higher than the nominal value
The most important requirements of the EN 13155:2020(E) standard are safety coefficients for various magnetic technologies. Here are the most common ones:
Electromagnets have to safely lift and hold twice their maximal load capacity. Also, there must be a back-up source of electricity that keeps the magnet running in case there's a power cut, so that objects lifted in the moment of the power cut don't fall down. A power cut should always be accompanied by an auditory and visual alarm.
Electropermanent magnets are required to lift and hold 3x their maximal lifting weight, with monitoring of the lifting force up to twice of their nominal lifting capacity.
Permanent neodymium magnets have to be able to lift and hold 3x their maximal load capacity.
In Walmag, we go even beyond these requirements as we always test our lifting magnet with a sheet of paper between the magnetic surface and the lifted object. This decreases the lifting force (the paper creating a tiny air capsule, thus simulating surface irregularities of a real object) so we can confidently say we meet all the safety requirements: Our magnets can lift and hold 2x-3x their maximal load capacity even through a sheet of paper. Therefore our magnets can actually lift much more than their maximal load capacity.
Run safety tests on your magnets at least once a year
The EN 13155:2020(E) standard requires all companies that are using magnets to regularly test and verify their magnetic force. In practice, most companies perform so-called pull-off tests on a yearly basis in order to verify the reliability of their magnets.
When performing the pull-off test, a magnet is placed on a test object, with the magnetic surface covering the whole object. After that, a pull-off device is attached and the magnet is turned on full power. The force of the pull-off device is then slowly increased, up to the moment when it's verified that the power reserve of the magnet is sufficient. In addition, the tested magnet is always inspected for possible damage.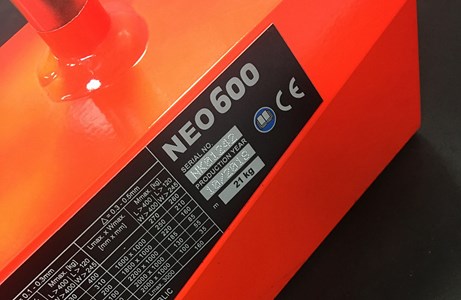 Choose a CE certified magnet to meet all the safety requirements
Choose a magnet with a CE certificate
Meeting all these requirements we've just mentioned doesn't automatically mean a 100% guarantee that a magnet is of high quality. There are other standards and EU regulations that lay out additional requirements for materials, technical processes or employee training. A magnet meeting all the relevant requirements can get a CE certification.
There are more legal regulations to be considered in other parts of the world, such as ASME B30.20-2018 in the USA, Russian GOST standards or Japanese JIS standards. Fun fact: US standards don't require the use of a power back-up so that in case of a power cut, the lifted load may fall down from the magnet immediately.
For all these reasons, we'd always recommend getting a CE certified magnet for your production.
Standards for magnetic clamps
Legal requirements for magnetic clamps are not so strict. They're based on the Directive 2006/42/EC of the European Parliament and of the Council on machinery.
The highest risk when using a magnetic clamp is usually the risk of damaging the clamped workpiece—if a magnet is not strong enough, it doesn't fixate the workpiece as firmly as needed and the workpiece can be damaged or destroyed during machining.
Do you need advice on magnetic lifters, magnetic clamps or magnetic chucks? Let us know. We'll assess the conditions in your warehouse and/or production and find the best and safest solution for you.