High-quality lifting magnets and magnetic chucks can last many years, they're almost indestructible. They still need regular service and inspection, though—especially load lifting magnets. Only a regularly inspected lifting magnet can be considered 100% safe and yearly inspections are required by law. Read on to find out what to expect when servicing or repairing a magnet or how to refurbish a magnet so that it's as good as new.
Warranty service
Lifting magnets and magnetic chucks have a standard 2 year warranty, unless the buyer and the seller agree otherwise. In Walmag, we usually provide extended 5-year warranty for the internal magnetic system of our NEO lifting magnets.
During the warranty period, service and repairs are free of charge (if they're not caused by mishandling the magnet or by regular wear and tear).
After warranty service
Magnets themselves have a very long service life. The magnetic core in a lifting magnet or a magnetic chuck is hidden inside the device, protected from adverse effects and less-than-ideal external conditions. This means that high-quality neodymium magnets rarely get damaged, don't degrade and don't lose their magnetic force.
As a result, servicing a magnet often means servicing every other part but the magnet. The most serviced components of a lifting magnet are usually the plates or the switch lever. These are most subjected to pressure and tension when the magnet is being used, so they wear out more quickly than other parts of the magnet.
Investing in regular service after a warranty always pays off. The most expensive part of a magnet is the magnetic core (made of neodymium, iron and boron) and the rotor. A rotor rarely needs to be replaced and a magnetic core doesn't degrade. Replacing all other components of a magnet is always less expensive than getting a new one.
Even when you replace all components around a magnet's core, you still pay much less than when getting a brand new magnet. And your repaired/refurbished magnet will be as good as new! That is why choosing a high-quality magnet is so important—with proper care, it's an investment for many years.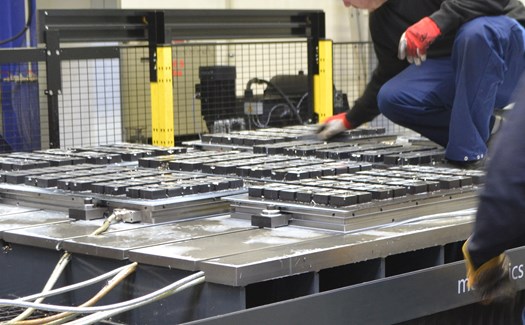 Regular inspection of lifting magnets and magnetic chucks
Lifting magnets are subject to the strictest rules and regulations as their potential failure might have serious consequences. According to the EN 13155:2020(E) safety standard, all lifting magnets should be inspected yearly. During the inspection, a pull-off test is performed to make sure the magnet has a sufficient power reserve.
Only authorized inspectors can inspect certified lifting magnets and issue an inspection certificate. We dedicated an entire article to the topic of magnet certification—we recommend reading if you want to learn more.
Walmag offers inspection and service of load lifting magnets of all brands. With one exception—we may recommend not servicing a low-quality uncertified magnet. It might cost you almost as much as a new certified magnet, while its quality will never compare.
When inspecting a load lifting magnet, the inspector examines the magnet and performs the basic service at the site (in your production). Only when it turns out that your magnet needs a more complicated service we may need to dismantle it and transport it to our facilities. Your production is always our top priority, and we understand the need for smooth operation—we never remove your magnet unless it's absolutely necessary.
If your production requires it, we can lend a backup magnet to you for the time being. Feel free to contact us if you want to know more.
When it comes to servicing other types of magnets (such as magnetic chucks), their regular inspection is not required by law. They're also very long-lasting so when they come to us, their wear and tear is usually very visible. We can repair them and even replace all the components (including the magnetic mechanism and the magnetic material inside the chuck). The line between repairing and refurbishing is quite thin here.
Refurbishing load lifting magnets: replacing all the components
High-quality neodymium in a magnetic core is almost immortal and doesn't deserve to be tossed away just because the components around it are not so resilient. It makes absolute sense (both budget-wise and environment-wise) to replace the worn parts. Your neodymium magnet can serve for many more years to come.
When refurbishing a magnet, we replace all the worn parts with new ones (sometimes even the rotor). A refurbished magnet functions as good as new while costing a fraction of the price.
Do you need to inspect or refurbish your lifting magnets or magnetic chucks? Let us know, we'll happily prepare a personalised offer for you.