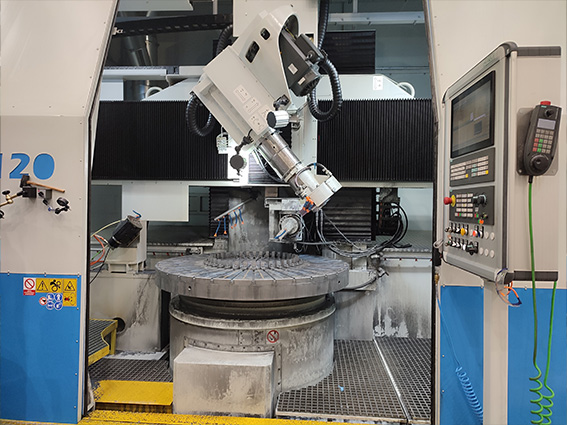 Circular magnetic chucks allow for multiple machining operations in a single clamping action. Machining the front of a workpiece as well as its inner and outer surfaces without re-clamping. Read more to learn about all benefits of round magnetic chucks and how to choose the best one for your production facility.
Round magnetic chucks are a popular clamping solution in production facilities where they work with ferromagnetic steel on carousel grinders and lathes. They are used to make ring bearings for wind turbines, in forging machining, lathe turning and grinding of rings, cylinders, solid circular materials or saw blades.
Most of our clientele for round magnetic chucks is from the engineering or automotive industry.
Types of Round Magnetic Chucks
Similarly to magnetic chucks of any shape, there are three types of round chucks:
permanent circular chucks,
electropermanent circular chucks,
electromagnetic circular chucks.
All the types have pros and cons which you need to consider when choosing a round chuck. Read this article to learn all about the three types of magnetic chucks and lifting magnets.
Round Magnetic Chucks — Permanent
They don't need electricity. At all. That is the most appreciated benefit which translates to:
100% safety (and functioning) in case of a power outage.
No need to be plugged in — permanent magnetic chucks are simple to install and can be relocated on another machine easily.
Zero electricity
Permanent round chucks are reasonably priced and come in smaller sizes.
Their flaw is their limited magnetic force. While it's possible to manufacture a permanent magnet as strong as an electromagnet, it would be impossible for any human to activate it (the stronger the magnet, the more physical strength it requires to be switched on and off).
We manufacture four types of permanent round magnetic chucks in Walmag:
Round Magnetic Chucks — Electropermanent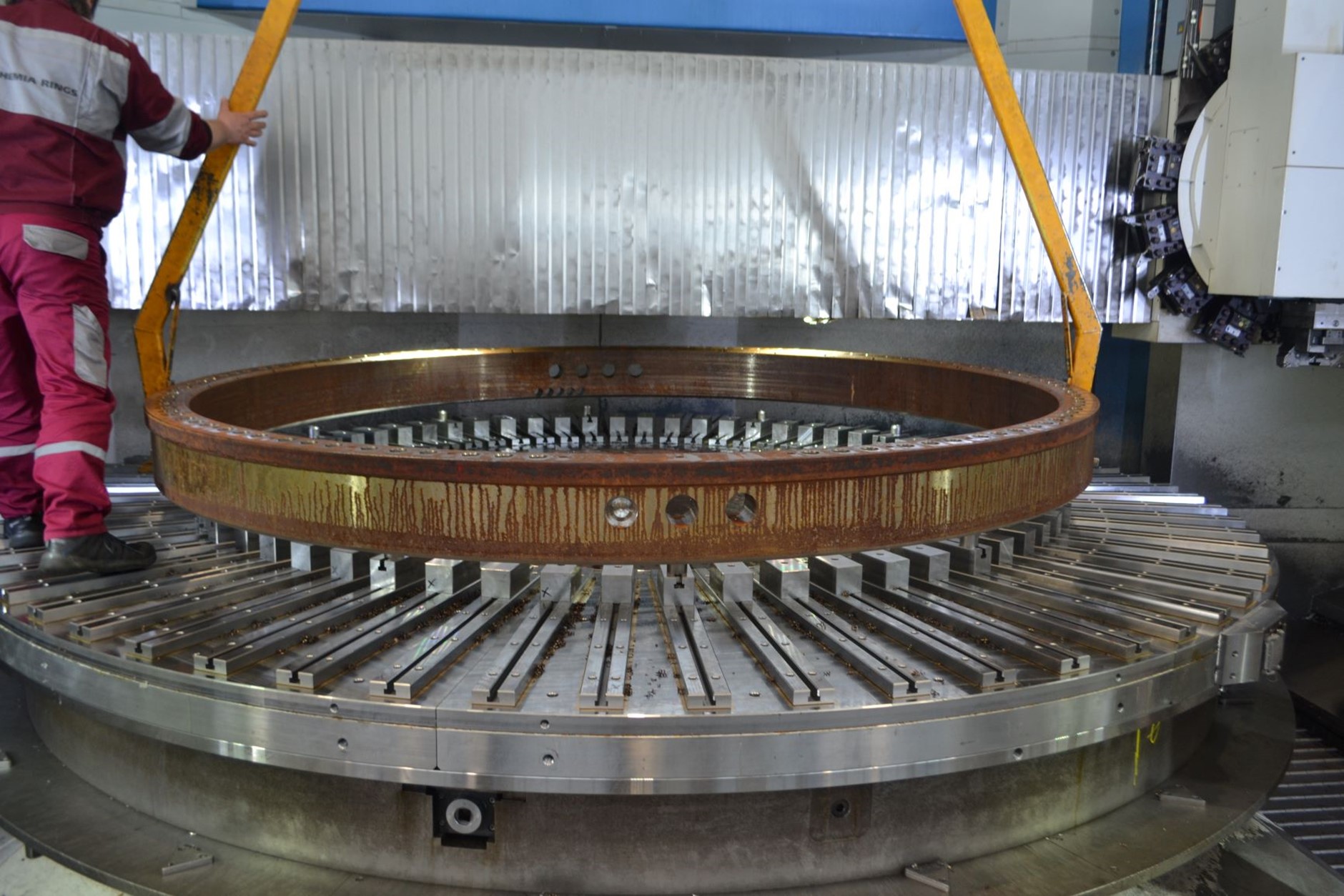 Installation of the Circu EM magnetic chuck.
Compared to permanent magnetic chucks, electropermanent magnetic chucks are stronger. They are used to clamp larger workpieces — of diameters ranging from 400 mm to several metres. Ideal for complex machining operations that require connection to the CNC machine control unit, making it possible for the operator to control all clamping and machining operations on one screen.
Electropermanent magnetic chucks need electricity, but only at the beginning and at the end of the clamping process (to activate and deactivate their magnetic field). Their power consumption is minimal and they're absolutely safe even in case of a power outage — contrary to electromagnetic chucks which need to be plugged in all the time and can't be used without electricity.
Installation of an electropermanent magnetic chuck doesn't require a certified electrician — all our round chucks have a connector on the side. You attach an electric cable to it, and remove it once the chuck has been activated. No cable gets in the way of machining, no need to pull a cord through the chuck to install it.
That said, the independence of electropermanent chucks on electricity also has its disadvantage — it's impossible to regulate their clamping force steadily. It can only be increased by large steps — not to mention the fact that the chuck has to be connected to electricity while you're turning the clamping force up. If you want to turn the clamping force down, you have to fully deactivate the chuck first — you may even need to run a demagnetisation cycle on the workpiece.
On the bright side, a great benefit stems from the fact that a electropermanent chuck doesn't need electricity to be active. The chuck doesn't warm up. That's crucial for precise machining (higher temperatures have a negative impact on precision). If precision is key in your production facility, an electropermanent magnetic chuck is the best choice.
Circu EP is our round electropermanent magnetic chuck that is popular in productions facilities where high clamping force is needed to perform demanding machining operations, with a high emphasis on precision.
There are two variants of Circu EP: with compensated or non-compensated magnetic circuit.
Compensated magnetic circuit is created by a combined magnetic core (made of neodymium and of aluminium-nickel-cobalt alloy). It's a more powerful magnet, suitable for advanced machining operations such as lathe turning or power grinding. This type of a round magnetic chuck has a stronger residue magnetism — you have demagnetise your workpiece to remove it from the chuck.
Non-compensated magnetic circuit is created by a magnetic core made of aluminium-nickel-cobalt alloy. It's weaker, more suitable for grinding and finishing lathe work. Its residual magnetism is minimal — no need to run a demagnetisation cycle once you finish machining.
Round Magnetic Chucks — Electromagnetic
Electromagnets need to be plugged in at all times. The most appreciated benefit is their magnetic force — the strongest from all magnets. It's possible to turn the clamping force up and down if you wish to. The best possible and most secure clamping solution when it comes to thin workpieces.
On the other hand, an electromagnetic chuck heats up (a disadvantage in high-precision grinding), and its power consumption needs to be taken into account.
Electromagnetic chucks can be connected to the control unit of the machining device. They're slightly more demanding when it comes to their installation — you need to plug them in through a connector ring placed in the middle of the chuck.

If you're looking for a strong round magnetic chuck, have a look at Circu EM. Made in diameters ranging from 400 to 1 500 mm.
How to Choose a Round Magnetic Chuck?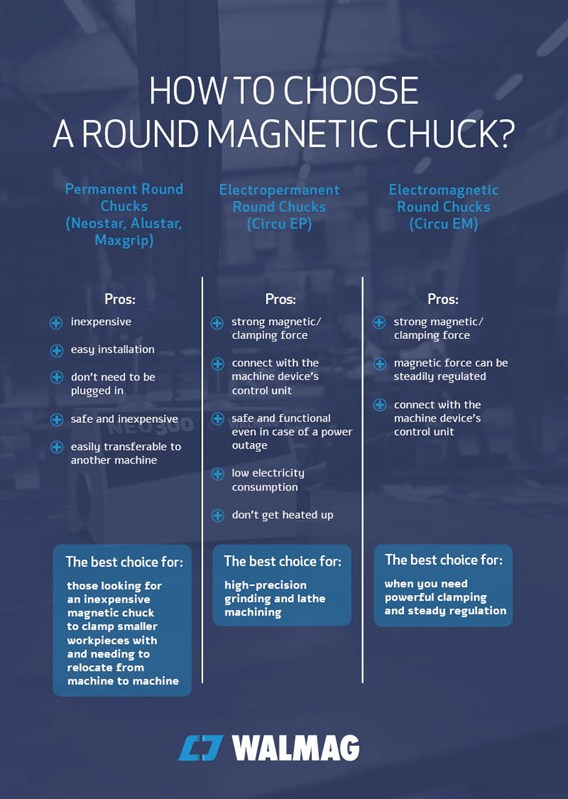 To customise them for a particular production facility, we design and produce round magnetic chucks equipped with various additions. T-slots, T-shaped dents in the top pole desk into which support extensions of the workpiece are screwed, are a popular addition. A workpiece held by such extensions is easily accessible from all sides and there is no risk of damaging the magnetic chuck itself during machining. T-slots also help with centering the workpiece on the chuck, and speed up the clamping process.
We're always happy to advise on the choice of the most suitable magnetic chuck. Feel free to contact us, describe your production facility to us, and our specialist will help you pick the optimal round chuck. If you're still not sure, we can lend you one. For unique production facilities we make made-to-measure magnetic chucks.