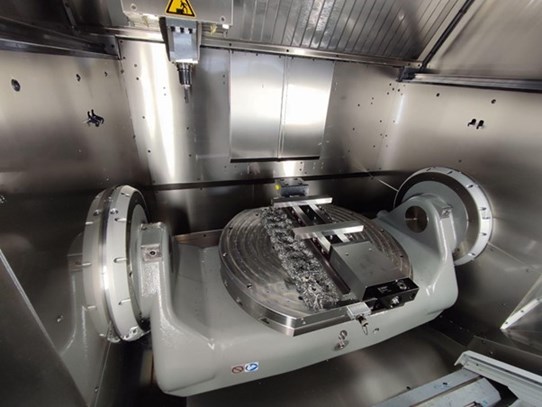 A five-axis machine with an already installed magnetic chuck, perfectly
copying the shape of the machining desk.
A made-to-measure magnetic chuck becomes an integral part of the machine — the operator controls both the machining and the clamping on one screen. Mastermill magnetic chuck is one of the most popular magnets in our portfolio and can be easily customised to fit 5- or 4-axis machining centres like a glove.
Multi-axis machining centres make it possible to perform multiple machining operations at once, without the need to re-clamp the workpiece or move it to another machine. Depending on the number of axes, the operator can tilt the workpiece to all sides, turn it around and upside down. Therefore, operations run on 4- or 5-axis machines are sometimes put under the general term 3D machining.
Multi-axis machining centres make machining quicker and more precise, eliminating both breaks (no need to re-clamp) and human errors (a slight deviation during re-clamping).
Modern machining centres and magnetic clamping stand firmly side by side — for multi-axis machining centres working with ferromagnetic workpieces, using magnetic chucks makes total sense. Workpieces are clamped faster, which makes the machining process cheaper and more effective.
Why should you consider a customised magnetic chuck for your machining centre? The machining desk of four- and five-axis machining centres is usually of a specific shape — a circle cut straight on two opposite sides.
Usually, magnetic chucks come in rectangular, square, or circular shapes. A magnetic chuck in one of these three standard shapes would surely work for a 4- or 5-axis machining centre — but such a solution is not ideal. An edge of the magnet or the machining desk could peak out here and there, getting in the way of the particular machining operation and making it more demanding for the operator (this usually slows down the machining process).
At Walmag, we customise our most popular Mastermill magnetic chuck so that it outlines the machining desk of your machining centre perfectly. This lets you use the machining desk to its fullest potential, entirely merging the magnetic chuck with the machining device. 

Five-axis machining centres save time and costs. Even
more so with magnetic clamping
Mastermill magnetic chuck can easily be interconnected with the control unit of the machining centre — enabling the operator to control both the machining and the magnetic clamping on one screen.
Adjusting the Mastermill magnetic chuck to fit a 4- or 5-axis machining centre falls under customised production of magnetic chucks. To manufacture a made-to-measure magnetic chuck, we only need the client to send us:
the exact dimensions of the machining desk (ideally blueprints of the machining centre),
dimensions, shape, and other specifications of workpieces to be machined (blueprints, technical drawings, samples, etc.).
The entire process can be done remotely, we don't have to visit the client's facility to produce a fitting magnetic chuck. Concerned about the price? No need — customisation increases the price ever so slightly (most often, the price increase isn't even by 10%).
Mastermill magnetic chuck falls under electropermanent magnetic chucks which need electricity to be activated, but then operate without a steady source of energy. This offers the user two main benefits:
An electropermanent magnetic chuck doesn't have an electric cord that would get in the way of machining (an annoying inconvenience while the workpiece is turned around, upside down and tilted from side to side).
The chuck doesn't get hot as it's not connected to a permanent power source — a very important quality especially for high-precision machining.
When to Consider a Customised Mastermill Magnetic Chuck
Mastermill magnetic chuck is a smart choice for:
production facilities working with ferromagnetic materials on multi-axis machining centres,
and for larger and medium-sized workpieces (Mastermill is not ideal for small workpieces and thin parts).
One of our clients using a customised Mastermill magnetic chuck for their machining centre is EUTECH. This former alarm clock producer managed to transform to a modern engineering production over the years. Nowadays, EUTECH makes high-precision parts for manipulation, welding and assembly-line robots, and also special parts for pilot seats (responsible for safely releasing the parachute in case the pilot catapults themselves). 
A customised Mastermill is a also a staple in P–D Refractories — one of the largest manufacturers of refractory products and raw materials. 
Got you interested? Feel free to reach out! We will gladly advise you on the choice of a magnetic chuck. Our delivery times are short even for made-to-measure magnets — usually up to 8 weeks.