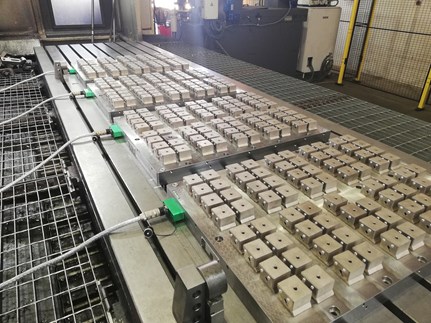 Magnetic chuck Mastermill safely clamps workpieces during various machining operations (milling, drilling, grinding) and aligns uneven workpieces easily. Its installation is quick and simple and it can be easily integrated with the control unit of the machining device. Read on to find out what makes Mastermill the most popular magnetic chuck in our portfolio.
Machining on a Magnet
The Mastermill magnetic chuck is the go-to choice in productions that involve a lot of milling and drilling. Mastermill magnets are used for example in Škoda Auto to mill the frames for their press brakes.
The best feature of Mastermill magnetic chucks is undoubtedly the accessibility of the clamped workpiece from five sides. There's no need to re-clamp the workpiece during machining, as Mastermill makes it possible to access the workpiece from all sides, except the bottom. A magnetised workpiece is held by a considerable clamping force of 170 N/cm2. Safe and sound.
Using a cooling agent leaves a Mastermill chuck unharmed—it's because we manufacture our Mastermill magnets from monoblocks. We mill them from one piece, their magnetic poles included, thus making them water-resistant. Contrary to magnetic chucks with bolted magnetic poles, there are no seams on a Mastermill magnet that could cause a leak-in (damage by liquid is often irreversible for electropermanent magnets).
Pole Extensions
Pole extensions on Mastermill magnetic chucks make it possible to clamp uneven workpieces which the magnet aligns and levels so that they can be machined. Aligning an uneven workpiece with manual clamps is impossible and not even older types of permanent magnetic chucks could level a workpiece.
A Mastermill magnetic chuck clamps and aligns an uneven workpiece in three simple steps:
First, attach three firm pole extensions to your Mastermill magnet to create a reference level.
Then add flexible pole extensions which copy the shape of the workpiece.
Once your magnetic chuck is switched on, flexible pole extensions magnetise the workpiece at the reference level, making the workpiece steady, even and ready to be machined.
Pole extensions are also the best solution when you need to drill through a workpiece.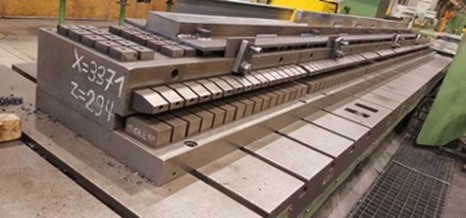 A rail ready to be machined, clamped by a Mastermill magnetic chuck
Smart Control Unit
Mastermill magnetic chuck either has its own control unit, or its control unit can be interconnected with the control unit of your CNC machine. This way, the operator controls both the clamping and the machining on one screen. We can also build one common control unit for a set of several magnetic chucks.
Thanks to its smart control unit, you can set a stronger demagnetisation cycle on a Mastermill magnet—a useful feature for clamping high-quality stainless steel workpieces that are difficult to demagnetise. Moreover, the control unit enables remote access to the magnet and its diagnostics.
Decades of Service
Not only are pole extensions a practical feature, but they also make Mastermill magnetic chucks last longer. Magnetic chucks used without pole extensions need to be ground once in a while to maintain the perfect level, which results in the magnet getting slightly smaller with each maintenance grinding. Eventually, the magnet is no longer safe to be used as it becomes too thin.
 In Walmag, we label our Mastermill magnetic chucks with a logo side plate that indicates its longevity. Once the logo starts to disappear, the magnet is at the end of its service life. In reality though, such cases are extremely rare—most customers use pole extensions and their Mastermill magnetic chucks serve them well for decades.
The longevity of Mastermill magnetic chucks is further increased by stainless steel filling among the poles. Mastermill magnetic chucks don't require any special maintenance and their malfunctions are extremely rare. In cases when there's some servicing needed, we can diagnose the problem remotely through the control unit. No need for you to pay for a technician's personal visit—our technicians can identify the problem while sitting comfortably in their office.
Customising a Magnetic Chuck
Customising Mastermill magnetic chucks is a standard procedure for us. Most often, we manufacture magnetic chucks with denser and finer magnetic poles (which firmly clamp even thin plates) or with an extra pole desk into which the customer can mill the shape of a workpiece. A magnetic chuck customised this way clamps workpieces exceptionally firmly.
We produce our Mastermill magnetic chucks in many different shapes according to the needs of your production. We often adjust the placement of the magnet's connector, so it integrates better with a specific workstation, or we put together comprehensive sets of magnetic chucks for our customers.
European Quality
Mastermill magnetic chucks are made in the heart of Europe—the Czech Republic and sold to many countries around the world. We have 30+ years of experience and know perfectly well what makes a great magnetic chuck. In our book, the key to a high-quality magnetic chuck are the best materials (of European origin), precise manufacturing and a thought-through construction that is highly resistant and functional.
Choosing a magnetic chuck? Contact us—we'd be happy to help! We provide advice, helpful insights based on plenty of experience, or we come up with a customised solution for you.