Weighty steel parts, metallurgical components, scrap metal… For most lifting magnets, this type of load is too much to handle. Large magnetic lifting systems save the day and efficiate processes in production facilities, warehouses, and scrap yards. What benefits do they bring?
What Are Magnetic Lifting Systems
Magnetic lifting systems consist of multiple electropermanent magnets or electromagnets. They might look like large lifting magnets — think scrap handling magnets — or they're assemblies of lifting magnets on a base (usually a steel beam or girder), attached to machines used in particular facilities (e.g. cranes). A magnetic lifting system handles even large and heavy loads without the risk of them sliding sideways.
Steel beams and girders are popular bases for building magnetic lifting systems as they enable moving the lifting system around. Steel beams are of various types:
fixed,
rotating,
telescopic,
combined (with equipment for mechanical handling — steel chains, stacking yokes, forceps, etc.).
Typically, magnetic lifting systems are used to lift:
metal sheets (individually, in bundles or in coils),
steel semi-finished products,
mill stands for rolling metal sheets,
pipes, tubes, and other large components,
reinforced steel,
scrap metal,
foundry metal components.
Benefits of Magnetic Lifting Systems
Greater Safety and Effectiveness
Magnetic lifting systems make the lifting job safer and more effective — these are their most appreciated benefits. Staff don't have to tie the load to the crane manually; magnets save their time and eliminate the risk of injury (there's no need to come close to the lifted load).
Lifting and handling more sheets at once, magnetic lifting systems simplify and speed up the work in metal sheets production plants. The Tip-Off function, a popular feature of magnetic lifting systems, makes it possible to drop a few sheets at a designated place while still holding the rest. The operator just needs to decrease the magnetic force, thus releasing the bottom sheets. This operation is significantly more time-consuming when done by hand — you need to untie the load completely at the designated place, separate a few sheets, then tie the rest of the load back, and move it elsewhere. Often repeatedly.
Most scrap handling facilities use scrap handling magnets — their capacity is much higher when compared to a traditional grabbing claw, especially when it comes to low-density scrap metal.
Handling Thin Metal Sheets
Thin metal sheets are usually a challenge for the crane operator. Magnetic lifting systems grab sheets in multiple places so they can't get damaged or deformed — they don't even bend. We always calculate the required magnetic force of magnetic lifting systems according to the requirements of a particular production.
Space Efficiency
With lifting magnets, you don't need as much space around the lifted load (staff don't have to come close to attach the load to the magnet). Your load items can be stacked right next to each other; you only need to approach the load from above to grab it and release it.
The same applies to storing the lifted load. Magnetic lifting systems make it possible to use your storage space efficiently — to fill up a railway wagon or a truck bed to the brim.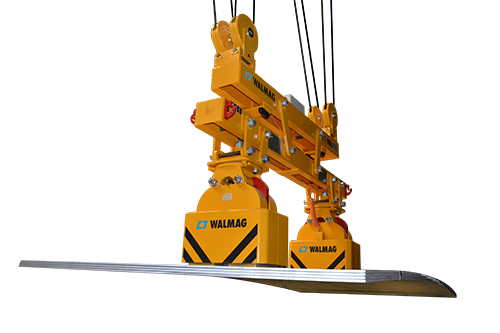 Metal sheets being handled by a magnetic lifting system on a crane
Designing and Installing Magnetic Lifting Systems
At Walmag, we design and produce bespoke magnetic lifting systems — we customise them for each customer. Based on our analysis of customers requirements, we always double-check the ways to use the proposed magnetic system. We proceed with a detailed specification of the load that the system will be handling. As the next step, we come up with the design of the proposed magnetic lifting system, discuss it with the customer, and draft documentation for connecting it to electricity. We visit most of our customers in person, but remote cooperation is also possible.
When it comes to installing a magnetic lifting system, we help the customer on-site or consult remotely. In case of magnetic lifting systems attached to a machine, the machine supplier usually takes over the installation, magnets included. Walmag provides staff training on correct handling and maintenance — always with a high emphasis on safety.
We're always there for our customers if they need advice on usage and maintenance; you can reach out to our customer support any time. When needed, we can even access and diagnose our magnetic lifting systems remotely.
If you're designing a production facility or a warehouse and considering getting a magnetic lifting system, we're happy to help and/or contribute with our insights.
Contact us to find out a lot more about magnetic lifting systems. Our systems are used in many facilities across Europe and we deem ourselves quite the experts.