Customer

Type of machining

Product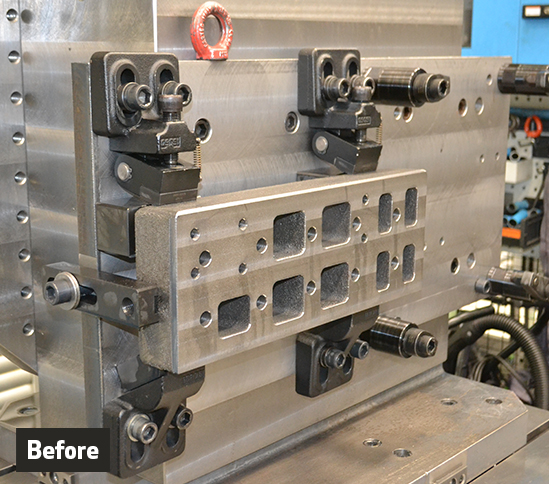 Customer's request:
So far, the parts have been clamped using clamps, from one side to the cone. This operation is demanding both on the precision of execution and on time (requiring approx. 20 minutes for one clamped part). When using a magnetic chuck, we expected a significant improvement and simplification of work.
Our proposed solution:
After considering the conditions – the size and shape of the 2 specific parts, the flatness of the contact surface with the magnet – the Walmag dealer proposed the Neomill compact permanent chuck with dimensions of 300 x 900 mm.
Using the Neomill compact permanent magnetic chuck, the same clamping operation can be carried out in 5 minutes. Due to the uniform clamping of the entire surface of the workpiece from the underside, an even better flatness is achieved. Before finishing grinding, it is possible to determine smaller surface allowances = again saving time and material.
Parameters of our solution:
Neomill 300 x 900 SPC Compact with 2 eccentrics. The magnet is equipped with customised pockets on either side for attaching to the clamps on the machine workbench.
Aplication:

Milling

Technology:

Permanent

Holding power:
160 N/cm2
Min. workpiece size:

25 x 25 x 6 mm

Poles

:

Transverse

Regrinding limit

:
10 mm

Pole pitch

:

T15 11+4 mm - steel/epoxy resin (optional steel/brass or stainless steel lamellae)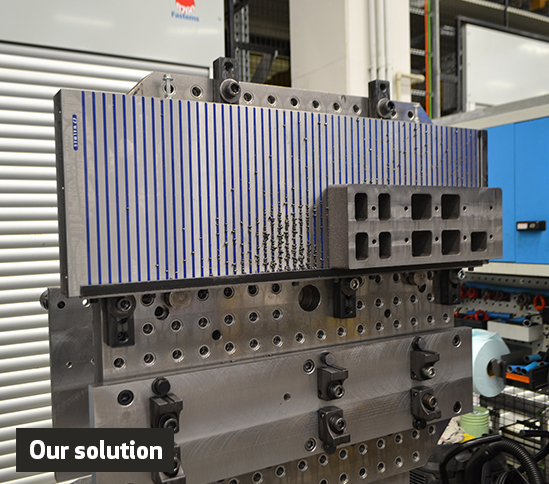 Do you face a similar problem? We will be happy to suggest you an optimal solution. 
Customer's statement:
"When selecting a supplier, we approached several companies. Walmag's solution was selected even though it was not the best offer price-wise. This was because they are a Czech manufacturer, not just a supplier of magnetic clamping technology. Thanks to this solution, we are achieving better production accuracy, and saving time and material. We are planning to invest in tooling in the future and we will definitely contact Walmag again."Mr. Konečný, Walter s.r.o.