Customer

Type of machining

Product

Customer request:
Preciz needed a very powerful electro-permanent magnetic chuck for milling with high removal rates. In this project, important factors were the ability of the magnetic chuck to clamp very thin workpieces from a thickness of 4 mm, the possibility of using pole adapters for auxiliary processing, machining from five sides, and drilling through the workpiece.
Solution proposed by us:
After considering all the circumstances, we chose the Mastermill T25 electro-permanent magnetic chuck with the use of pole pieces, thus meeting these demanding requirements. Thanks to the pole pieces, in which various modifications can be made, it is possible to secure very thin parts, for example with pins, and thus to achieve a high holding force even on these workpieces. Components with a thickness of up to 15 mm for which the magnetic chuck is primarily intended are securely clamped with a high clamping force of 170 N/CM2. This makes it possible to perform demanding roughing operations on a very wide range of parts. Other advantages of the pole pieces are the possibility of machining from five sides as well as drilling through without damaging the magnetic chuck itself. The pole pieces also act as protection against mechanical damage to the magnet.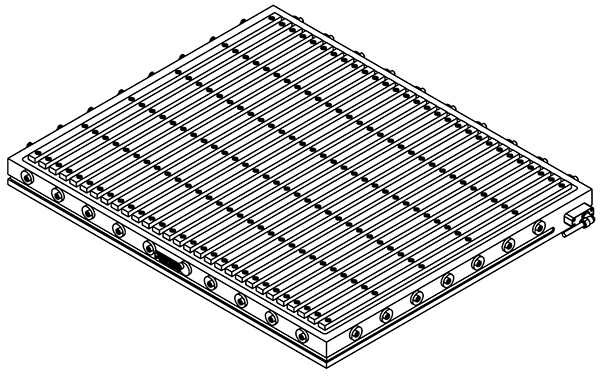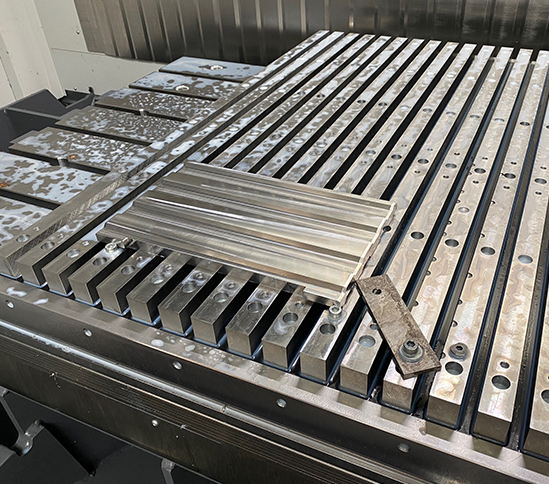 Parameters of our solution:
An EP chuck with compensated magnetic system (AlNiCo + NdFeB magnets) designed for maximum holding force for machining large steel blanks.
| | |
| --- | --- |
| Applications: | milling, boring |
| Technology: | EP compensated system |
| Holding force: | 170 N/cm2 |
| Min. workpiece size: | 150x200 mm |
| Minimum/optimum workpiece thickness: | 15/25 mm |
| Poles: | transverse |
| Regrinding limit: | 8 mm |
| Pole pitch: | T39 25+14 – steel/epoxide |
Additional information:
Poles with M8 threads for mounting fixed pole pieces for machining from 5 sides, through drilling.
There are slots for securing the clamps at the shorter ends of the chuck.
Additionally, the chuck can be provided with through holes for attachment through the slots of the machine tool table.
Basic technical data:
| | |
| --- | --- |
| Height (mm) | 85 |
| Supply voltage (VDC) | 340 |
| IP degree of protection | 67 |
| Supply cable (m) | 6 |
| Control unit (type) | EP-CU |
Do you face a similar problem? We will be happy to suggest you an optimal solution.