Customer

Application

Product

Important facts – customer´s requirements, application, working conditions:
General repair or replacement of the original D800 mm electromagnetic circular chuck.
Installed on Soviet-Union carousel grinding machine.
Operation is grinding of various size of forgings.
Processed materials: tool steels CSN 19… - case hardened 45 HRC
Workpiece surface: turned (Ra between 1,6 and 3,2)
Workpiece sizes: diameters 100 – 350 mm (solid material from 90%)
Component weights: usually in range 20 to 80 kg
Application: face machining, material removal rate – generally in mm range.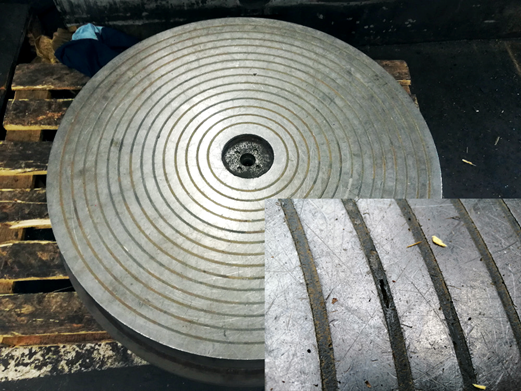 original solution in detail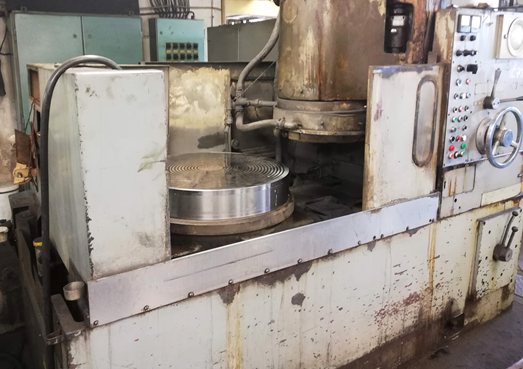 Circu EM D800 – new circular magnet from WALMAG MAGNETICS is being installed on customer´s machine table
WALMAG solution: 
Circu EM D800
| | |
| --- | --- |
| Technology: | electro |
| Chuck outer diameter: | 800 mm |
| Composed of two parts: | monoblok těleso + monoblok pólová deska |
| Poles: | soustředné |
| Regrinding limit: | 8 mm |
| Holding force: | 100 N/cm2 |
Evaluation:
The electromagnetic device meets the requirements for powerful and versatile clamping device with excellent operating comfort.
The reason why the Walmag Magnetics design was chosen:
In comparation with competitor´s offer – WALMAG MAGNETICS showed excellent communication skills. Customer acknowledges rapid reactions, possibility to customize the magnet to original clamping interface on carousel grinder. Pivotal role played the excellent availability in terms of maintenance service and quick access to essential spare parts.         
Do you face a similar problem? We will be happy to suggest you an optimal solution.