Technology

Type of machining

Product

Customer:
the company is engaged in the production of rolling and large bearings and slewing bearings (energy – wind power plants)
Customer's request:
increasing the range of commonly clamped and machined bearings up to 1500 mm
power supply of the magnetic chuck through the centre without the need to plug in a connector
Machin:
Berthiez VGM 120 vertical grinder with rotary table
Application:
grinding of outer and inner surfaces of large bearing rings (up to a diameter of 1500 mm)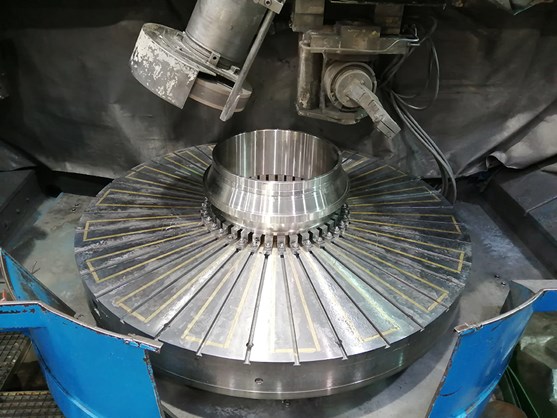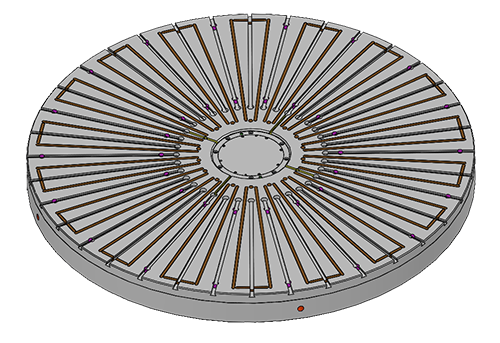 Parameters of our solution:
Circu EM Radial D1500 – Special - radial electromagnetic clamp plate.
| | |
| --- | --- |
| Technology: | electro |
| Clamping range: | 360-1500 mm |
| Chuck outer diameter: | 1500 mm |
| Composed of two parts: | monoblock body + monoblock pole plate |
| Poles: | radial/36 poles (each pole has a T-slot for mounting extensions) |
| Regrinding limit: | 8 mm |
Result/benefits:
The customer is satisfied. Everything works without issue. Thanks to the supplied chuck, it was possible to expand the product portfolio with larger bearing sizes and thus respond to the growing demand in this segment. By purchasing a chuck from Walmag Magnetics, the customer also gained the possibility of service inspections, and the project also supplied a design for a suitable clamping adapter for attachment to the existing machine work table.
Do you face a similar problem? We will be happy to suggest you an optimal solution.