Established in 1993, Strojírna Slavíček Industries at Velká Bíteš produces parts and finished goods. Most of their production consists of milling, turning, and grinding and is currently performed on 11 electropermanent magnetic chucks from Walmag. Magnetic chucks make machining faster and more precise – as the production volume increases, reclaims decrease. Apart from magnetic chucks, Strojírna Slavíček uses 14 lifting magnets from Walmag for material transfer.
Electromagnets are the Only Way to Speed Up Production While Maintaining High Quality
Strojírna Slavíček Industries started purchasing magnets to satisfy varying needs of their customers. They got lifting magnets at first, to transfer slabs and logs easily. As customers started demanding more precise machining, electropermanent magnetic chucks became a natural choice when seeking a solution for holding workpieces securely in place.
"Our customers wanted us to make rings, which are very difficult to clamp manually, so we knew we needed to get electromagnetic chucks. Without them, we would have to resort to manual clamping, which was unacceptably slow for us, let alone the fact it bears a high risk of workpiece damage," explains Manager of Control Zdeněk Urbánek.
As with any other equipment supply, Zdeněk Urbánek demanded quotes from several magnetic chuck producers. "Walmag won us over with the quality of their magnets. We needed magnets that would be easy to operate and really safe. I was also pleasantly surprised by the price – and the dealings with Walmag's Sales Rep were very fast forward. We were sure our investments in Walmag magnets would return very soon and so they did," says Urbánek.
Magnets Used at Strojírna Slavíček Industries

 

Mastermill Permanent Magnetic Chuck SQ50

Neolift Permanent Lifting Magnet

Alustar Permanent Magnetic Chuck

8 pcs of 420×800 mm diameter

14 pcs – lifting capacity 250 to 2000 kg

1 pc of 800 mm diameter
This is how they use the Alustar circular magnetic clamp at Strojírna Slavíček.  
As Production Volume Grew, so Did the Number of Magnets in Production
Hand in hand with the demand for new parts from customers, production in Strojírna Slavíček Industries expanded since getting their first electromagnet. Workpieces became larger, requiring stronger magnets to clamp them.
These days, lifting magnets in Strojírna Slavíček Industries transport workpieces weighing 250 kg to 2 tons, and machining is done on circular permanent magnetic chucks. "We need to be able to machine larger and larger workpieces. We also need to transport voluminous raw materials that don't adhere to magnets perfectly, so we require stronger magnets to hold them safely in place," explains Urbánek.
When Strojírna Slavíček Industries won over a customer who needed to machine slabs, Walmag supplied electropermanent milling magnets Mastermill SQ50. "This magnet firmly clamps the entire surface of the workpiece thanks to its magnetic cubes, leaving the workpiece accessible from five sides with absolutely no risk of the workpiece getting deformed. If we used manual clamps or chucks, the slab would inevitably bend and get damaged," explains the manager of control.
He also remarks that he sends demands for new magnets to Walmag constantly. Once a machining operator receives a requirement for a new type of workpiece, they immediately specify their need for a new magnet. "If Walmag has the required magnet in stock, they send it to us right away. If we need a new type of magnet urgently and it has to be manufactured first, Walmag lends us their own magnet for the time being, before the new one is delivered". Urbánek appreciates the cooperation.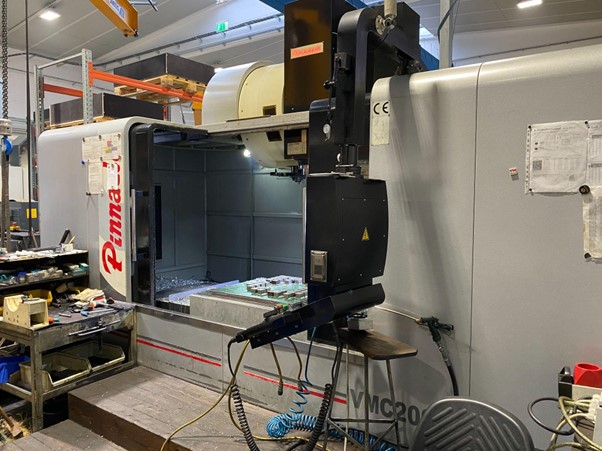 Permanent magnetic chuck Mastermill SQ50 at Strojírna Slavíček.  
Magnets Make Machining Faster, More Precise and Eliminate Reclaims
"If we clamped workpieces for machining manually, we would give our competition a head start. Our employees simply lay workpieces on magnetic chucks, centre them and can start with any machining operation immediately. Plus, the workpiece is accessible from five sides. Magnets make machining faster, safer and with no occasional workpiece damage. I remember one of our customers for whom we machine hundreds of rings. He always requires the highest level of precision. He told us we do a better job than when they used to machine their rings themselves. Thanks to magnets, we have literally no reclaims!", Urbánek praises Walmag.
 Apart from magnets, Urbánek honours Walmag's service and customer support. "This one time, we had to machine a large slab, 1,200 mm in diameter. The machining operator was afraid the slab would bend, that not even the magnetic chuck would be able to hold it in place. So we rang Walmag and they immediately assured us that there was no risk of the slab bending. Getting a quick answer to your question is very important in our line of business," evaluates Urbánek.
Strojírna Slavíček Industries plans to expand even further. Currently, they are thinking of getting a circular magnetic chuck that is 1,500 mm in diameter.
If you're looking for a solution to make machining simple, get in touch with us. We'll evaluate the conditions in your warehouse or production facilities and recommend the best and safest magnets.