Your supplier of magnetic applications for more than 30 years
We are a Czech manufacturer of top lifting magnets, magnets for clamping during machining, and demagnetizers. We provide warranty and post-warranty services, repairs and refurbishment of all our technologies.
Why Walmag?

MANUFACTURER
The Walmag brand carries tradition, quality and affordability in the background of its own development and production center.

SAFETY
Walmag's philosophy helps customers improve the safety and efficiency of their production processes.

SERVICE
Professional warranty and post-guarantee service, repair and repair of magnet of all technologies.
5 things to gain customers around the globe:
More than 50 years of tradition in production
Exceptional quality at a reasonable price
Incessant innovation, development and monitoring of trends
Specialized tailor-made solutions
Manufacturing in the Czech Republic
With an emphasis on safety, durability and simplicity.
Presentation of selected products of our company

We focus on designing our magnetic systems to operate simply, making work easier and helping to make handling and machining more efficient in production. Add to that the high durability and our quality service, and you will achieve a significant reduction in costs.

Company history
---
The history of WALMAG MAGNETICS can be traced along two lines. It goes back to 1960 in the Czech Republic, when a magnetic technologies division was founded in NAREX. The American branch goes further back to 1896, when Oakley S. Walker invented the electromagnetic chuck and subsequently founded OS Walker company. Their road together starts in 1991. The diagram describes the entire history.
O.S. Walker invented the electro-magnetic chuck

1896

O.S. Walker was founded

1897

Walker developer the first permanent magnetic chuck

1943

Acquisition Hagou N.V

1955

Walker introduced Electro Permanent magnetic chuck

1960

Beginnings of Czechoslovakia magnet tool production division of NAREX later PILANA

1960

Walker introduced the first Electronic Integrating Fluxmeters

1963

Walker Magnetics Group Inc. was formed

1974

Starting trade cooperation with Walker Hagou Magnetics

1980

Acquisition with Walker. WALKER PILANA MAGNETICS was founded

1991

Production and development of lifting magnets Neo BUX

2000

New organization Walker Hagou Magnetics

2004

Stable production of Walker Magnetics products

2010

Change of name WALMAG MAGNETICS and WALMAg HOLDING founded. Czech ownership

2011

Investment into production facility 1mil. EUR. R&D starts

2012

Innovations and improvements introduced

2015

BUX brand relaunching with WALMAG MAGNETICS

2016

Turnover more than 5,5mil.€ and crossed the border of 55 countries to which we exported

2022
WALMAG – SMART AND SAFE​​​
VISION 
To be a leader in our field, a strong and respected company that develops,
manufactures and supplies innovative magnetic systems operating worldwide,
with a trustworthy brand, arousing positive emotions.     
MISSION
To understand our customers and help them increase the efficiency and safety
of their production processes. We push the boundaries of quality, functionality and reliability of our products and services towards the satisfaction of our customers.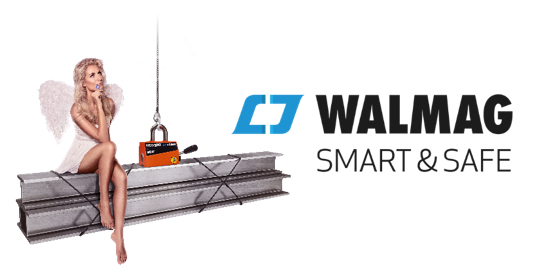 Walmag values: 
Prosperity – that means the future
People – good relationships are important to us
Professionalism – there is no doubt about the result of our work
Ingenuity – we are looking for new routes
Tradition – we have quite something to build on
Ethics – we follow the rules
Nature – we care about the future of the world where we live